| | | | | |
| --- | --- | --- | --- | --- |
| Simpson Bay | Hotels | Other | Photos | SXM Map |


This shot was taken from Cay Hill (about where it says Philipsburg on the map)
Princess Juliana Airport is here and is ringed with hotels, casinos, and restaurants. There is so much happening that we have split the area into two sections. Simpson Bay East is the area on the eastern side of the Dutch Bridge. The Maho Sonesta Resort is on this side and the three yellow outlines on the left hand side of the map indicate their shopping and restaurant areas. Bajatzu Bar & Grill has emerged as the clear winner in the steakhouse category on the island. It has a fantastic look and feel, plus a great chef, fine food, and attentive service.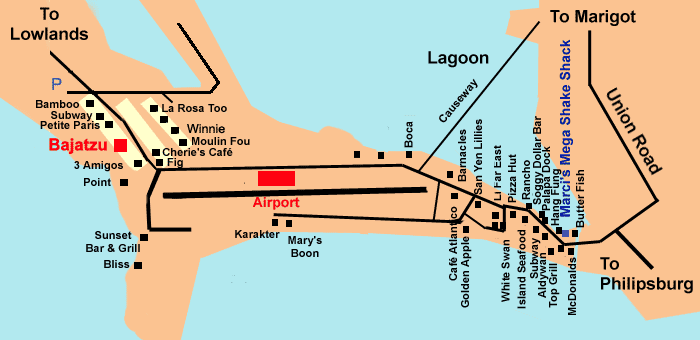 Click on the restaurant names on the map
to jump to their website, if they have one.
If not, you will go to the list on this page.
Dial 1 721 plus the seven digits phone numbers to reach these restaurants from the US.
Restaurant
Phone
Cuisine
Location
Bajatzu Bar & Grill
545 2021
Steak and more
Maho Complex
Café Atlantico
545 2663
Bakery
Airport Road at the Fish Market
Alegria
545 4000
Various
Beacon Hill
3 Amigos
523 9373
Mexican
Maho Complex
Bamboo

545 3622
International/BBQ
Fish/Sushi
Maho
Boca
?
Burgers/Steak/Lobster
Simpson Bay
China Shack
544 2900
Asian
Behind Airport
Cheri's Café
545 3361
Burgers/Drinks
Maho Complex
Dinghy Dock

586-5048
Greek
Airport Road
Fig and Bananba
545 1041
French
Maho COmplex
Golden Apple
545 2572
Asian
Behind Airport
Golden Star
545 3314
Asian
Behind Airport
Hang Fung
525 0321
Chinese
Airport Road
Island Seafood
545 3314
Asian
Airport Road
Joe's Top Grill and Ribs
557 9984
Barbecue
Airport Road
Karakter
523 9983
International/Beach Bar
Behind airport
Lal's Indian Cuisine
577 9059
Indian
Airport Road
Li Far East
545 2209
Chinese
Airport Road
Mary's Boon
545 4235
French/Buffet/Créole
Behind Airport
Moulin Fou
545 5777
French
Maho Complex
Palapa Dock Café
International
Airport Road
La Petite Paris
French
Maho Complex
Pizza Hut
545 3210
Pizza
Airport Road
Pizza Pasta
545 4034
Pizza/Italian
Maho Complex
Point
545 2115
French
Maho Complex
Rancho
545 2495
Argentine Steakhouse
Airport Road
La Rosa Too
545 3470
Italian
Maho Complex
San Yen Lillies
545 2406
Chinese
Airport Road
Soggy Dollar Bar
International
Airport Road
Subway
545 2488
Subs
Airport Road
Subway
?
Subs
Maho Complex
Sunset Bar and Grill
545 3998
Beach Bar
End of runway
White Swan II
545 2477
Chinese
Sr Modesta Road
Winnie
545 5888
Chinese
Maho Complex

Print this page and take it with you!
SXM: Info | Activities | Adult | Art | Beaches | Bookstore | Cars
Casinos | Hotels | Map | Marinas | Medical | Services | Shopping
Restaurants | Real estate | Travel/Airfare | Weddings